To Resources
What is SSL (TLS)?
The Internet is an open and decentralised infrastructure, where standard transmission of data is unsecured. This means that communication is an easy target for eavesdropping. Business on the Internet is growing, the need for privacy, data integrity and confidentiality becomes critical, since business transactions typically involve sensitive information as personal data and payment card details.
SSL (Secure Sockets Layer) is a standard cryptographic protocol and security technology used for securing communications on the Internet and support authenticating of the communicating parties. From a user perspective, a secure HTTPS is established automatically, and browsers give visual cues to inform that a connection is secured. The traditional SSL technology has been superseded by a new security protocol for encrypting links called TLS (Transport Layer Security). Nevertheless, SSL is still commonly referring to both technologies.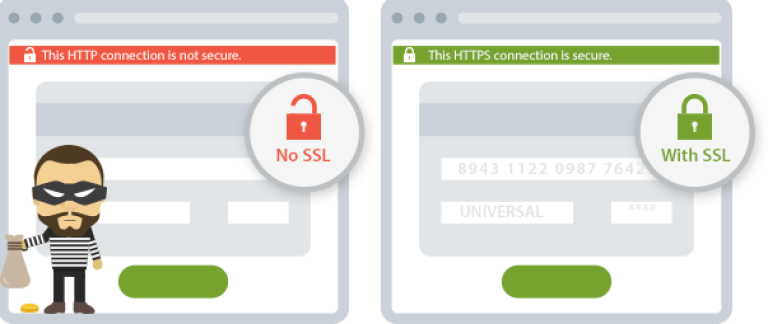 How do SSL-Certificates work?
SSL-certificates are an integral part of the SSL technology, which tie together organisational data with a unique cryptographic key. To make users confident about the authenticity of the services they are using on the Internet, SSL-Certificates are signed and guaranteed by a trusted certificate authority (CA) as Buypass. A qualified certificate authority provides trusted root certificate to browser suppliers so SSL certificates can be validated automatically.
To secure the link between a client and a server (website), SSL relies on symmetric encryption. This means that encryption and decryption of data is done with a shared cryptographic key. This key is generated and shared based on the TLS handshake protocol. This protocol uses an asymmetric encryption scheme based on a public key infrastructure (PKI).
Read more about How to secure your business with SSL?
Types of SSL-Certificates
A service-provider may choose from a variety SSL products. These products differ with respect to assurance level and the number of domains and subdomains to be covered by the certificate. The recommended assurance level depends on the context for which the certificate is intended. Such contexts may span from securing server-to-server communication to securing of public services and e-commerce. Encryption of credit cards details is mandatory following PCI DSS. SSL/TLS is a proven technology for satisfying this requirement.
Read more about Choose the correct SSL certificate
Secure a complex site in a single certificate
A Buypass SSL certificate may be configured to cover several main domains and even an unlimited number of subdomain (or even subsubdomains). This greatly reduces the number of certificates needed, and make management of certificates in most cases easier. Multidomain certificates imply that a single certificate contains several domain names. This is normally the cheapest solution.
Wildcard certificates allow you to secure an unlimited number of subdomains at one level in the domain hierarchy. For advanced cases Buypass even offer to combine multiple domains and wildcard within the same certificate. Wildcard can be configured for several levels in the same certificate.